Acer USB Slim Multimedia Keyboard (TPE-ACSLMKEYBD)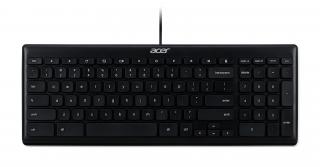 Need a inexpensive quality keyboard? The Acer USB Slim Multimedia Keyboard is a highly sought after keyboard for Chromeboxes, but works great on a traditional GNU/Linux distributions too! With some additional programming all the major keys can be utilized.
Genuinely Penguin friendly with all critical keys supported (multimedia keys via script)


Search key: great for quick access to your menu (no Microsoft key here)


Multimedia keys can be utilized as function keys or special function / multimedia keys


No dependencies on NDISWrapper, binary blobs, or proprietary drivers-firmware


Numpad & arrow keys: Yes (no numlock, scroll lock, or insert keys)
Watch a video demonstration of the keyboard in action!
Note to those outside the United States: The item is only available for shipping from our US warehouse and the price on this item does not include VAT/GST/PST or other taxes/duties.