Penguin Key'd Backlit Quiet Mechanical RGB Keyboard (TPE-PENKEYBD2)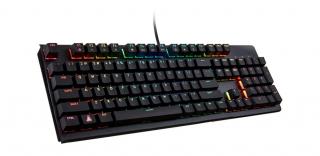 Don't get just any keyboard! Get the best- our custom manufactured mechanical
Penguin
keyboard is designed for
GNU / Linux
users. The keyboard ships with a tux super key to ensure you won't be embarrassed around your friends any longer. Providing an optimal user experience the keyboard comes with high quality Cherry MX red switches for maintaining a quiet environment.
Genuinely Penguin friendly with all critical keys supported out of the box in most major distributions


CHERRY MX Red Switches provides incredible response times and smooth operation. All switches are tested and rated for a 50 million click lifespan to be reliable and durable.


18 built-in RGB Colors Backlit modes. Built-in 64K Flash memory can save the keyboard backlit mode, you can play in the way you want it, on any computer without the help of any software.


104 keys roll-over with anti-ghosting, allows you to press any number of keys simultaneously. Double-shot molding ABS keycaps features crystal clear backlighting and lettering that won't fall off.


Made of durable aluminum alloy surface cover brings a comfortable user experience. With braided fiber cord, anti-interference magnet ring and gold-plate interface, it offers stable data transmitting.


No dependencies on NDISWrapper, binary blobs, or proprietary drivers-firmware


Ideal compatibility: Compatible with standard backlit Cherry MX keys (ships with a US QWERTY keyboard layout)
Note to those outside the United States: The item is only available for shipping with a computer from our US warehouse and the price on this item does not include VAT/GST/PST or other taxes/duties.