34'' Class 21:9 UltraWide® Full HD IPS LED Monitor with HDR 10 (TPE-LGULWMON)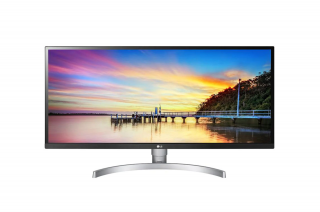 Are you the kind of person who has to have multiple monitors hooked up to be productive? If you are consider taking a look at the latest in monitor design tech. This sleek 34'' UltraWide 21:9 IPS monitor is about the equivalent of two 22" monitors, but without taking up as much of your desk's precious real estate. It also offers as much as two extra inches of vertical display space over a typical 22" monitor.
With this UltraWide Monitor you also get HDR 10. HDR is now the industry agenda for the best quality picture in display devices. To more fully realize content creators' vision, this monitor is compatible with industry-standard HDR 10 high dynamic range, supporting specific levels of color and brightness that exceed the capabilities of ordinary monitors.
True Colors and Wider View: 34" 21:9 WFHD (2560 x 1080) IPS Display


Stand: A tilt / height adjustable base enhances stability and offers a more comfortable viewing experience


Immersive Experience: Includes a modern 3-sided slim bezel design for a lifelike viewing experience


Walk Into The New World Of HDR: HDR is now the industry agenda for the best quality picture in displays
This product is compatible with all recent and older releases of your favorite GNU/Linux distributions in active use. Includes one HDMI cable.