BYOD Prepaid SIM Kit (Verizon, AT&T, & Three)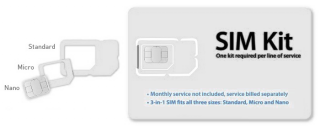 Item Features/Specifications:
100% Brand New


3-in-1 kit for maximum compatibility


Size: Nano, Micro, and Standard included


Compatible with our USB 4G & 5G modems
Interested in service & plan info?

Please note: Cellular service is not included and a separate subscription is required. Also note that not all devices support all SIM cards. Make sure the cellular provider is compatible with your device before purchase. Questions? Contact support.