Canon imageCLASS B&W Laser All-in-One Printer GNU/Linux Edition (TPE-CANLSR570)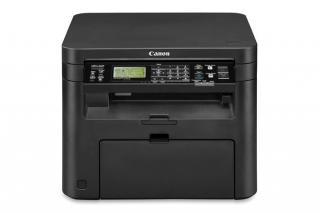 Give your business the efficiency it deserves with a Canon imageCLASS printer offering feature-rich capabilities in a high quality, reliable copier and scanner that is ideal for any office environment.

Your professional quality documents are printed at speeds of up to 28 pages per minute in black and white. A laser all-in-one printer will save you time, paper, and related costs over traditional inkjet all-in-one printers.

This all-one-printer ships with support for PCL 5e/6 (similar to postscript) enabling printing support from near any operating system, distribution, or release via using a standard driver.

This model can be hooked up to one or many computers with support for 802.11 wireless technology, and a physical ethernet port, or a single computer using a USB cable.

Unlike most all-in-one laser printers on the market this Canon imageCLASS printer doesn't depend on proprietary and problematic drivers or OS-loaded firmware components. For scanning a back end sane-pixma driver component is utilized. This is a clone of the original Canon driver protocol, but with a complete set of source code available for optimal integration and support by your favorite GNU/Linux distribution. This is a production ready driver which is now being shipped in current releases of your favorite distribution for a seamless works out-of-the box experience. For some popular older long term support distributions we have documentation on how to manually update drivers to support both printing and scanning.
Paper capacity allows for 250-sheets in the standard cassette and one-sheet in the multipurpose tray


Print at speeds of up to 28 pages per minute


Easy to setup: The printer is supported by a stock hpij PCL driver included in most distributions


Upgrade with ease: Continued support & no need to reload drivers manually with each upgrade


Support for most popular and libre (free) Linux distributions


Not dependent on OS-loaded binary blobs, or OS-loaded proprietary drivers-firmware
Category
Specification
Print Speed
Up to 28 Pages Per Minute (Letter Size)
Print Memory
512 MB (Shared)
First Print Out Time
Approximately 6 Seconds (Letter Size)
Functions
Print, Scan, Copy
Duplex Functions
Print
Wireless / WiFi Direct Connection
Yes, Wireless and WiFi Direct Connection
Paper Handling
250-Sheet Standard Cassette, 1-Sheet Multipurpose Tray
Monthly Duty Cycle / Recommended Monthly Print Volume (RMPV)
Up to 15,000 Pages Per Month / 750-3,000 RMPV
Toner and Yield
Canon Toner, Cartridge 137 Black (2,400 Sheets, ISO / IEC Standard)
Minimum canon-pixma version (driver)
1.0.27-git (note: 1.0.27 will not work, requires a newer version available sane-project git repository or other binary package repositories, see support and documentation for details)
Print Resolution
Up to 600 x 600 dpi
Maximum Print Size
Up to Legal (8.5 x 14 inches)
Copy Type
Monochrome Laser
Copy Speed
Up to 28 ppm (letter, 1-sided), Up to 16 ppm (letter, 2-sided)
Original Type
Text/Photo, Text, Photo
Halftones
256 Levels
Warm-up Time
13.5 seconds or less from power on
First Copy Time
9 seconds or less (letter)
Recovery Time
Approximately 2 seconds
Maximum Number of Copies
Up to 999 copies
Reduction/Enlargement
25-400% in 1% increments
Copy Size
Platen: Up to 8.5 x 11
Copy Features
Memory Sort, 2 on 1, 4 on 1, ID Card Copy
Scan Type
Color Contact Image Sensor (CIS)
Color Depth
24-bit
Scan Resolution
Up to 600 x 600 dpi (optical, note: while this model can scan at up to 600dpi there is currently a bug which causes vertical lines to appear at that resolution.. a bug report has been filed upstream... but no fix is yet available)
Scan Size
Platen: Up to Letter
Duplex Scan
No
Compatibility
Simple Scan, Xsane, etc, TWAIN, WIA, ICA
Output File Formats
TIFF/JPEG/PDF/Compact PDF/Searchable PDF
Scan Features
USB and Network
Paper Handling Specifications Standard Paper Source(s)
250-sheet cassette plus 1-sheet multipurpose tray
Paper Output
100 sheets (face down)
Paper Weight
16-43 lb. (bond, plain paper)
Media Sizes
A4, B5, A5, Letter, Legal, Executive, Statement
Media Types
Plain, Color, Recycled, Heavy, Bond, Label, Envelope
Envelope Capacity
1 (multipurpose tray)
Envelope Types
Com 10, Monarch, DL, C5
Standard Interface(s)
USB Device 2.0 Hi-Speed, 10/100 Base-T Ethernet (network), Wi-Fi® 802.11 b/g/n
WiFi Access Mode
Infrastructure Mode, WPS Easy Set Up, Wi-Fi® Direct Connection
WiFi Authentication Methods
WEP 64/128 bit, WPA-PSK (TKIP/AES), WPA2-PSK (AES)
WiFi Encryption Modes
WEP 64/128 bit, TKIP, AES
WPS Easy Setup Support Methods
Push-button mode, PIN code mode
Network Functions
Print, Scan
Print Protocols
LPD, RAW, WSD-Print (IPv4,IPv6), IPP, IPPS
TCP/IP Set of Application Services
Bonjour(mDNS), DHCP, BOOTP, RARP, Auto IP (IPv4), DHCPv6 (IPv6)
Network Management Protocols
SNMPv1/SNMPv3 (IPv4,IPv6), HTTP/HTTPS, SNTP
Power Consumption
Approx: Operation: 480 W, Standby: 4.1 W, Energy Saver: 1.2 W (USB), 1.3 W (wired), 2 W (wireless)
Package Weight / Dimensions
37.4 lbs / 15.4 inches (W) x 14.6 inches (D) x 12.3 inches (H)
Cartridge Type
Cartridge 137 (Yields approximately 2,400 pages), Single Cartridge System *Yields based on ISO/IEC Standard
LCD Display
5-Line, Tiltable LCD
Duty Cycle
Up to 15,000 pages
Security
IP/MAC address filtering
Other Features:
Languages: English, Japanese, French, Spanish, German, Italian, Portuguese, Simplified Chinese, Traditional Chinese, Korean

Recommended Monthly Print Volume: 750-3,000 pages

Operating Temperature: 50°-86° F

Operating Humidity: 20 - 80% RH (no condensation)
Compatible with
Linux (recent releases), Windows® 10, 8.1, 8, 7, Windows Vista®,Windows Server® 2016, 2012, 2012 R2, 2008, 2008 R2, Mac OS 10.7.5 & up




Have questions?
E-mail support or call us at: 1-888-39-THINK (84465)




Partial List Of Supported Releases:
Trisquel
8, 9, 10, 11
PrawnOS
1.00, 1.01, 1.02, 1.03, 1.1, 1.2, 1.3, 1.3.1, 1.3.2
Ubuntu
18.04, 18.10, 19.04, 19.10, 20.04, 20.10, 21.04, 21.10, 22.04, 22.10, 23.04
Lubuntu
18.04, 18.10, 19.04, 19.10, 20.04, 20.10, 21.04, 21.10, 22.04, 22.10, 23.04
Kubuntu
18.04, 18.10, 19.04, 19.10, 20.04, 20.10, 21.04, 21.10, 22.04, 22.10, 23.04
Linux Mint
19, 19.1, 19.2, 19.3, 20, 20.1, 20.2, 20.3, 21, 21.1, 21.2
ZorinOS
15, 15.1, 15.2, 15.3, 16, 16.1, 16.2, 16.3
Debian
10, 11, 12
Manjaro
20.2, 20.2.1, 21.0, 21.0.1, 21.0.2, 21.0.3, 21.0.4, 21.0.5, 21.0.6, 21.0.7, 21.1.0, 21.1.1, 21.1.2, 21.1.3, 21.1.4, 21.1.5, 21.1.6, 21.2.0, 21.2.1, 21.2.2, 21.2.3, 21.2.4, 21.2.5, 21.2.6, 21.3.1, 21.3.2, 21.3.3, 21.3.4, 21.3.5, 21.3.6, 21.3.7, 22.0, 22.0.1, 22.0.2, 22.0.3, 22.0.4, 22.0.5, 22.1.0, 22.1.1, 22.1.2, 22.1.3, 23.0
This model has out of the box support for all core functionality (printing, scanning, and copying) on more recently released distributions (Ubuntu 19.04+, Debian 11+, Trisquel 10+, etc). Older releases that may still be supported such as Ubuntu 18.04, Debian 9 & 10, etc may require manual updating of drivers or manual selection of the printer when running the add printer wizard.

For some of the most popular older distributions that are still supported we have detailed directions on our web site for getting the printer to work. This in some instances requires manually installing the sane-pixma driver from a third party repository. This will enable support for scanning using the printer. There are also directions for starting the add printer wizard to add the printer such that you can print with it as well. If you have any questions about your favorite distribution and support contact us with the name of your distribution, version of the distribution, and product you are looking to buy.

Notes: Includes toner cartridges (starter), power cable, and all-in-one printer. USB and ethernet cables sold separately.
We are unable to ship this item to the following countries and/or regions:
Europe, Canada, South America, Africa, Asia, Mexico, Russia, Greenland, Iceland, New Zealand, Japan, India, Pakistan, Iran, the Pacific Islands, any other islands, and the middle east.