Dirty Fiat Grudgingly Accepted, Cryptocurrencies & Goldback Preferred Stickers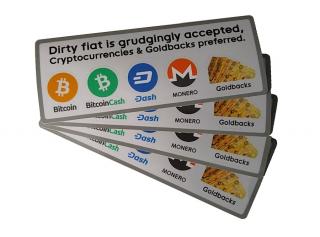 Protect yourself from government intrusion with a twist on the popular 'Bitcoin Accepted' stickers. Let customers know that not only do you accept Cryptocurrencies and Goldbacks, but that you prefer them! While cryptocurrencies & gold may not be perfect, at least they're solutions or a start thereof to government meddling in the affairs of freedom loving people everywhere.
Don't accept all these cryptocurrencies yet? No problem! These are kiss-cut stickers which means that you can peel off the cryptocurrencies you don't yet accept. Still unsure what that means check out this
example of a sticker
where a particular crypto was removed from display.
Great for informing customers that you take Cryptocurrencies & Goldbacks!


The perfect size: 6 x 2.323 inches


Laminate: Semi-Gloss


Quality Assured: Not happy? We have a 14-day guarantee!


This is for (1) sticker. Need more than one? Select below for a multiple quantity discount.