GNUCash Tutorial And Concepts Guide : Accounting On GNU/Linux (TPE-GNUCASHBK)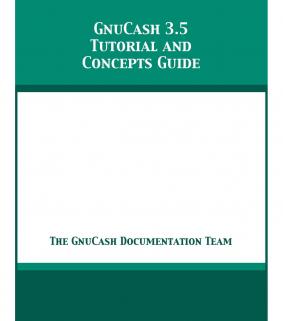 GNUCash is personal and small-business financial-accounting software, freely licensed under the GNU GPL for GNU/Linux. This manual is based upon the version released as of June 6, 2019. This manual was produced by GNUCash documentation and is printed in grayscale.
Designed to be easy to use, yet powerful and flexible, GNUCash allows you to track bank accounts, stocks, income and expenses. As quick and intuitive to use as a checkbook register, it is based on professional accounting principles to ensure balanced books and accurate reports.
Learn to do double-entry accounting


Setup stock/bond/mutual fund accounts


Conduct small-business accounting


Learn how to import from other popular programs and your bank: QIF/OFX/HBCI


Get a real book! This copy has a color cover and is otherwise printed in greyscale
Please note:
For those outside the US depending on what you are ordering please be aware adding this book to your shopping cart will limit your shipping options to ones that may be much more expensive if not ordering it with a computer. This book is primarily intended for shipping to customers within the US and will ship via USPS media mail due to its weight and cost unless other goods are purchased alongside it. Media mail may take longer to deliver than our normal postal shipping options.