Set of 5dBi Antennas (TPE-2X5DBIANT)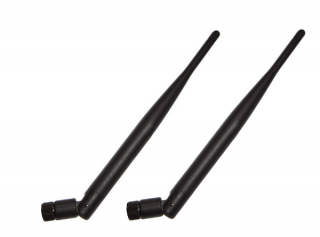 Are you looking for antennas for your computer's wifi card, router, or similar device? Get a set of our 5dBi antennas. The antennas are compatible with most wireless routers and wifi cards on the market that ship with RP-SMA style connectors. These antennas are compatible with every 802.11 wireless product in our catalog.
This WiFi omnidirectional antenna has a performance gain of 5dBi, is suitable for the 5 GHz frequency band and thus for 802.11a/n applications. The antenna is black, and is suitable for indoor use and has an RP-SMA connector with an articulated joint.
WiFi Omnidirectional Antenna


Color: Black


Includes two RP-SMA male 5dBi antennas