Type-C & A USB 3.0 Slim DVD±RW Writer (TPE-CDVDRW2)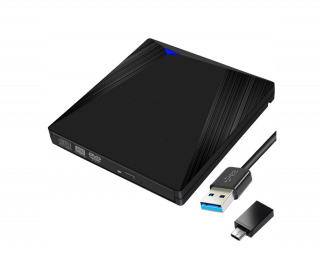 With the Penguin USB 3.0 (backward compatible with USB 2.0) Type-C & USB 3.0 Slim DVD±RW Writer (TPE-CDVDRW2) you'll be getting the ultimate in modern DVD writing technology. Connect your USB DVD-RW drive to computers with either an older Type A USB port or newer faster USB 3.0 or Type-C port. Unlike many 'new' cheap USB DVD-RW drives on the market today that utilize defective components pulled from broken systems we utilize new premium quality components found in laptops from leading manufacturers to ensure the same high quality reliability so you don't run into problems reading or writing media.
As optical drives have become devices for accessing legacy media formats rather than standard components on modern PCs some distributions have stopped including CD/DVD writing and playback applications. Core out of the box support for accessing data discs remains, but for writing discs we recommend searching for and installing a CD/DVD writing app from your distributions software center. One popular application is Brasero. Another feature you may find that you want support for is playback of commercial video DVDs. For that see our
support documentation
.
High speed USB DVD Drive 3 0 Type A & newer C USB ports supported


Media types: CD-ROM CD-R CD-RW DVD-ROM DVD-R DVD-RW DVD+RW DVD+R DVD+R DL DVD-R DL


Super Multi Compatibility: Can read and write different types of disc formats such as DVD+R/RW, and DVD-R/RW


Support for all popular and libre (free) distributions
Supported across all recent distribution and releases.