Wordpress Explained: Setup A Website Using Free Software (TPE-WRDPSSBK)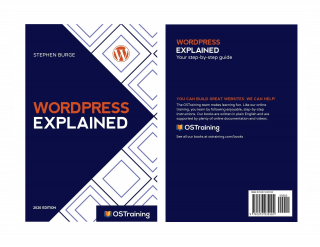 WordPress is the world's most popular free software platform for building websites. WordPress Explained is a high-quality and fun introduction to using WordPress. The book includes a step-by-step guide on how setup and build a complete WordPress website.
For today's WordPress: Regular edition updates ensure you're getting relevant info


Easy to follow: Step-by-step instructions with clear visuals make the book easy to follow


Includes crystal-clear visuals, simple explanations, and on-target analogies


Covers: Installing WordPress, planning sites that are easy to use and manage, adding content, and incorporating powerful site features without programming
Please note:
For those outside the US depending on what you are ordering please be aware adding this book to your shopping cart will limit your shipping options to ones that may be much more expensive if not ordering it with a computer. This book is primarily intended for shipping to customers within the US and will ship via USPS media mail due to its weight and cost unless other goods are purchased alongside it. Media mail may take longer to deliver than our normal postal shipping options.